How cultural intelligence can lead to retention and customer comfort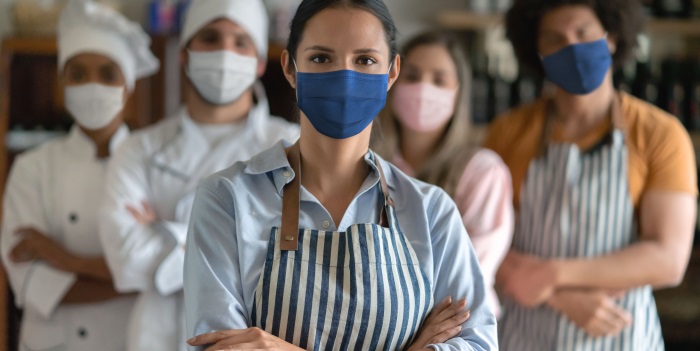 The MFHA's Andre Howell advises operators to be vulnerable with team members, admit they don't have all the answers, and let them know their opinions are valued. Engaging the workforce can boost employee retention.
How is your cultural intelligence? While there's no simple test to assess it, your ability to reach out to individuals from different backgrounds and cultures can be vital to your operation's success. As anyone in the hospitality industry knows, making employees and guests feel comfortable and at home is key.
Cultural intelligence practices lead to employee and customer comfort—increasing retention, guest satisfaction and repeat business. Andre Howell, vice president of operations for the Multicultural Foodservice & Hospitality Alliance, and Bill Fultz, vice president of point of sale for Heartland Payment Systems, co-hosted a recent National Restaurant Association webinar on the topic, which is available to watch on demand.
"Cultural intelligence, simply stated, is the knowledge, skill, and ability to effectively and appropriately engage people from different cultures and backgrounds," explains Howell. Fultz adds, "When we're able to meet our customers, our employees, and people in the community in a way that's accessible to them—whether through language or other nuances—it leads to that comfort factor."
---
Find out how cultural intelligence and technology intersect to improve employees and guest experiences.
---
It can also boost your operation's bottom line. Latinos, for example, comprise 16% of the population and account for 25% of restaurant sales. "We have to be really smart about how we accommodate these markets," says Howell.
Howell and Fultz offer these five ways to improve your organization's cultural intelligence.
Hire a multicultural workforce. "Our workforce should reflect the communities that we work in and serve," Howell urges. Actively recruit multicultural employees by advertising on targeted websites such as latpro.com, he recommends.

Tap into your diverse workforce for ideas on how to reach out to the community and attract them as customers. "There is a lot of intelligence and perspective inside companies," Howell says, but sometimes employers look to an outside firm for help rather than asking employees to share their firsthand insights. Be vulnerable with your team members, admitting that you don't have all the answers, and let them know you value their opinions. Engaging your workforce this way can boost employee retention.

Set your "dinner table of opportunity." Howell envisions a dinner table of opportunity with four seats—the workforce, the customer, the community and suppliers. Embrace the multicultural segments of all four stakeholders. "In order to have an efficient, effective and sustainable multicultural initiative, you've got to prepare and accommodate those four seats at the dinner table," he says.

Ask customers for input—in their own language. Encourage multicultural employees and customers to give honest feedback about their experience, so you can tweak your operations to better fit their needs, notes Howell. Phrase your questions in a way that makes employees and guests feel welcome, included, and valuable.

Offer feedback forms and online surveys in Spanish and other languages, advises Fultz. Too often these surveys are available only in English. "There's no ability for some [customers] to engage and provide feedback in a comfortable fashion," says Fultz. "As a result, their voice isn't heard.

Be cognizant of cultural and language nuances. When Heartland set to work making its POS products accessible in multiple languages, the company learned the challenges of translating industry-specific content. At first, "some of our translations didn't necessarily resonate. There were nuances that we didn't capture," says Fultz.

Heartland sought feedback from bilingual restaurant employees using the products, and the company uncovered subtleties that needed to be addressed to make the information clear and accessible.

When communicating in English, avoid idioms that may confuse non-native speakers and individuals from different cultures, advises Howell. He points to a conversation about "throwing the baby out with the bathwater" that a non-English-speaking colleague found disturbing. Be mindful of the words you choose, and even your inflections.

Use technology to make management simple—in any language. Given the recent jump in online ordering, consider making your ordering platform and mobile apps multilingual, Fultz says. Leverage the power of QR codes to direct consumers to resources in multiple languages. Surging in popularity during the pandemic, QR technology lets customers scan a code with their smart phone to access a menu or facilitate online ordering.

Supporting multilingual employees and customers can build sales. Heartland examined how language accommodations impacted its restaurant clients. Operators found that Spanish-speaking customers spent 7 % more when ordering through a Spanish platform—online or through a kiosk—than the same customers spent through the English version.

Frequency of visits also rose, adding 1.2 more visits every three months. "There's not just altruistic value" in community outreach, Fultz says. "It actually does impact P&Ls."