Homeless to hopeful: Program paves way to self-sufficiency
Denver community organization partners with NRAEF to offer workforce readiness curriculum.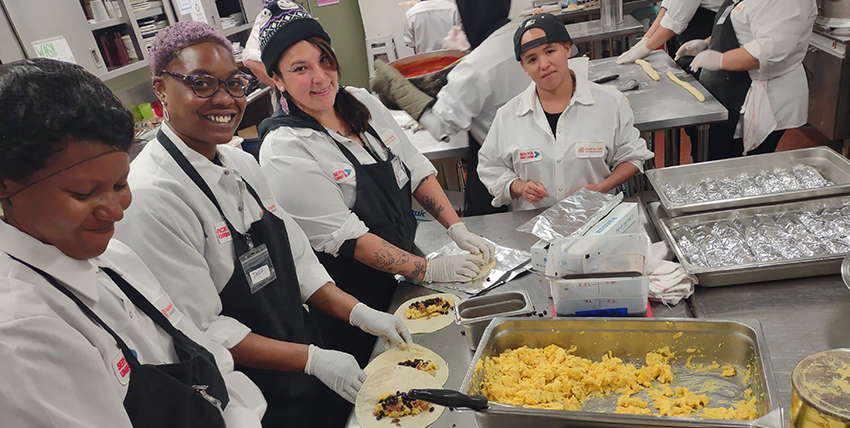 HWH welcomed its first students in 2020. So far, 72 individuals have graduated from the program, and 64 are employed.
They come by van from homeless shelters throughout Denver, or from other housing provided by organizations that help people experiencing housing insecurity. Many of them face mental health challenges. Some have been abused; others have struggled with addiction or spent time in the criminal justice system.
All arrive at the Housed Working & Healthy (HWH) training kitchen, seeking a fresh start through a program that prepares them for a culinary career, partly by using the
Restaurant Ready
curriculum developed by the
National Restaurant Association Educational Foundation
.
An on-ramp to self-sufficiency
"We are here to help people on their path toward self-sufficiency," says HWH Executive Director Brad Volin. A graduate of Harvard Business School and a serial entrepreneur, Volin decided to devote his time to community projects after seeing family members struggle with mental illness and homelessness. "I didn't want to be angry about the issue … but rather I wanted to be part of the solution," says Volin, who started volunteering as an employment coach for a nonprofit organization in 2017.
Working with his clients, he soon realized that the path to self-sufficiency was an endless loop with no entry point for many individuals who faced adversity—or made mistakes that got them off track.
"In order to be self-sufficient and housed, you have to have a job," Volin explains. "But you can't have a job if you're worried about where you're going to sleep at night, and you can't do either one of those things—keep housing or keep your job—if your mental health is not in a good place." His solution: establishing Housed Working & Healthy, a nonprofit organization that addresses "all three legs of the stool," housing, employment and mental health.
While Volin has no culinary training himself, he recognized that the foodservice industry is a natural match for HWH. Not only are culinary professionals in demand, but the hands-on work allows participants to reap the rewards of their efforts from the get-go. "Our specific population has been kicked down their whole life," Volin says. "Here they can immediately have success on day one and build on that success every day thereafter."
HWH welcomed its first cohort of students to its commercial kitchen in 2020. So far, 72 individuals have graduated from the program, and 64 of them are employed. Participants train under the supervision of chef instructors for three to four months, while working with case managers and employment coaches to help them transition successfully to the work world.
Transportation is provided from area homeless shelters, and participants get breakfast and lunch—prepared themselves! After a morning of kitchen work, they spend the afternoon attending workshops on life skills, such as financial literacy, and meeting with peer support groups.
Becoming "Restaurant Ready"
Earlier this year, HWH partnered with the National Restaurant Association Educational Foundation and the Colorado Restaurant Foundation through Restaurant Ready, a national program dedicated to helping people acquire the basic job and life skills necessary to pursue work in the restaurant and hospitality industry, and jumpstart a pathway to independence.
The Restaurant Ready curriculum focuses on six competencies: personal responsibility, communication, attitude, learning, customer service and industry-specific skills, such as culinary knowledge and food safety, with HWH participants earning the National Restaurant Association's
ServSafe
certification.
About 25 students are currently enrolled in HWH, including Faith Jimenez. "When I was a kid, me and my family were homeless. My mom couldn't keep a steady job. We were always living in our car, sleeping out on the streets, staying in shelters," Jimenez recounts. "I realized that I don't want to live that lifestyle anymore."
Through HWH, she's learned how to bake decadent desserts and make homemade pasta—and so much more. "I definitely learned how to work in groups, how to have open communication, and how to be an advocate for myself and say what I think." She's working on earning a GED and dreams of eventually opening her own bakery/restaurant.
Jimenez is in her final month of training, when students secure a placement at one of HWH's business partners, including Chipotle, Modern Market Eatery and Sprouts grocery store. The program eases students into the work world, starting one day a week on the job and gradually building up to full time.
Case managers provide support, helping the new employees cope with stress, anxiety and other challenges. Sometimes a second placement is needed if the first wasn't a good match. The goal is to succeed long term at job, become self-sufficient and find independent housing.
"It's about much more than getting a job," Volin emphasizes. "That's relatively easy now. It's about keeping the job," a win-win for HWH graduates and restaurant employers.