Articles
September 10, 2021
Hispanic businesses turn the tables on COVID-19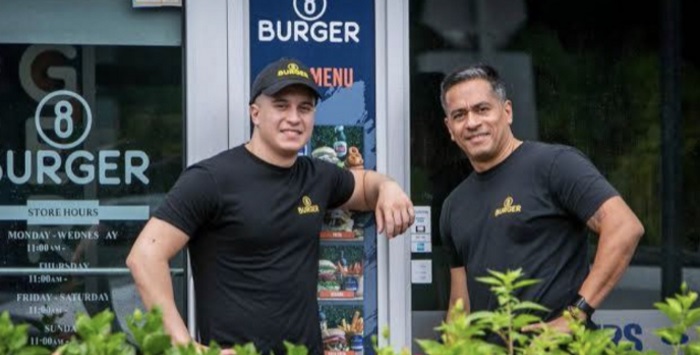 Gustavo, left, and Jesus Daza, owner-operators of 8 Burger in Miami, Fla., say a focus on local traffic instead of tourists helped keep their business afloat.
COVID-19 has been really tough for Hispanic restaurant owners to navigate in the last year and a half.
The pandemic hit the Hispanic community harder than it did a lot of others, resulting in excessive illness and death rates, job losses, and economic instability. Hispanic women business owners were especially impacted. A 2020 Stanford University study found that twice as many Latina-led companies closed compared to Latino-led businesses, 30% vs. 16%.
Many small businesses, including Hispanic-owned restaurants, struggled to get economic relief from the government, the study reported.
The National Restaurant Association is celebrating National Hispanic Heritage Month, Sept. 15 to Oct. 15, in recognition of the contributions the Hispanic community makes to the restaurant industry. Despite these tough times, Hispanic business owners are optimistic about their full recovery from the pandemic. Education, innovation and resourcefulness are a few of the tools they're using to succeed.
One lifeline—a source of economic aid—is grants offered by private organizations, including the PepsiCo Foundation. In August, it launched Juntos Crecemos (Together We Grow), a $50 million initiative that will help Hispanic-owned foodservice businesses, including restaurants and bodegas, not only meet their current business challenges, but prosper over the next five years.
Three of the recipients‑‑Rich Berroa, who with his wife, Claudia, operates the Peruvian fast-food restaurant Claudy's Kitchen in Bronx, N.Y.; Jesus Daza, owner of Cuban quickservice concept 8 Burger in Miami; and Nayomie Mendoza, co-owner of the Mexican full-service Cuernavaca's Grill in Los Angeles—offered some lessons learned.
Rich Berroa, Claudy's Kitchen
"We opened our restaurant in June 2020, and always knew it would be quickservice concept with a limited menu as opposed to fullservice. Our location is great, next to a transit hub where there's a subway, city buses, and buses that go up into Westchester. Plus, there's a lot of foot traffic. We expected there'd be an 80/20 split in terms of takeout, so when the pandemic happened and there was no in-store dining, we were already prepared. I'd done my homework and found packaging that worked well with our food. That's my advice to others, especially the ones with locations near or at office buildings and business parks. You're just not going to get the traffic, the lines, there yet. Rethink your food and packaging. Make sure it travels well."
Jesus Daza, 8 Burger
"The hardest thing for us was having most of our orders come in on tablets or through phone calls, and, of course, the third-party apps taking 30% commission. That took away a lot of our earnings. One thing we did that helped us succeed was to stop focusing more on tourist sales and start concentrating on bringing in the neighborhood traffic around us. Our restaurant's in a lower-income area so we created special deals, bundles. Our cheapest burger was around $9.50 at the time, so we added fries and a drink, to add more value."
Nayomie Mendoza, Cuernavaca's Grill
"Be innovative and creative. Use social media to spread your message. During the pandemic, I feel like we got a little more outspoken. That helped us gain traction on social media. We started creating 15- to 30-second reels on Tik Tok, and posted videos on Instagram, which allowed us reach the community. We were shuttered for five months so it was an effective way to let everyone know we were open again. Since then, it's become a way for us to be more involved with our community, to network, and become friends on those social media platforms."
Watch for deeper dives into their stories over the next several weeks.
Visit the Multicultural Foodservice & Hospitality Alliance to learn more about diversity and engagement in the restaurant industry