Articles
February 24, 2020
Hilton Foundation gives $600K grant to help train underserved youth for jobs in restaurants
Grant will enable the National Restaurant Association Educational Foundation to establish training programs in Louisiana.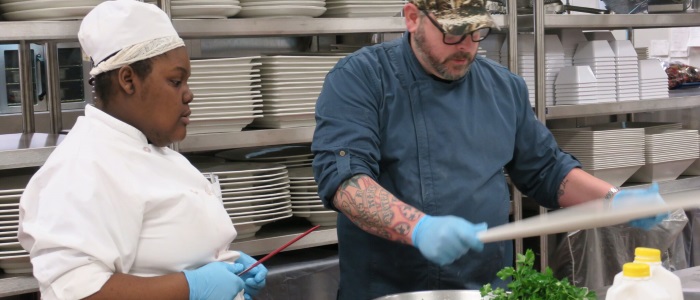 Operators across the country know recruiting employees is a challenge, especially in this tight labor market. With the right training, underserved young adults — unemployed, not in school — can be set up to succeed in front- and back-of-house positions in everything from quickservice to tableservice operations.

How do we connect employers with these potential employees?

Conrad N. Hilton Foundation presented the National Restaurant Association Educational Foundation with a $600,000 grant to implement and expand two of the Foundation's hospitality-training programs to communities in Louisiana.

The one-year grant will help the Foundation provide these young people, ages 16 to 24, with the restaurant job- and life-skill training they need to land an industry position. The programs, Restaurant Ready and the Hospitality Registered Apprenticeship, will be offered at two sites in New Orleans.
Restaurant Ready partners with community-based organizations to provide training in six work-ready competency areas defined by the restaurant industry. The competencies are designed to help participants acquire the skills, discipline and confidence to start a job and stay employed.
The Apprenticeship program enables new and current employees to earn while they learn. The program helps employees meet set competencies and advance into career positions through a combination of on-the-job experience and traditional classroom work.
"We are thrilled to receive this grant," says Rob Gifford, NRAEF president. "This initiative will help young people reach their full potential with good jobs and a chance for a better future; they'll have opportunities to advance in our industry. The Hilton Foundation is dedicated to improving the lives of disadvantaged people, and we are proud to support this effort through our programs."

As part of the initiative, the Foundation will work with the Louisiana Restaurant Association Educational Foundation and local community-based organizations to deliver job-readiness training, entry-level employment and apprenticeship opportunities statewide.

Participating community organizations include Café Reconcile, a nonprofit restaurant that provides paid-job training, and Liberty's Kitchen, which operates two restaurants and a catering business and teaches skills and training to underserved youth. Both are located in New Orleans.

The restaurant/ foodservice industry is a major economic driver in Louisiana:
There are 9,818 eating and drinking places in Louisiana.
In 2019, restaurant and foodservice jobs in Louisiana represented 11% of employment in the state
By 2029, restaurant and foodservice industry jobs in the state are projected to grow by 7%
One in 10 people in the state are restaurant industry employees
NRAEF Chairman Stan Harris said the grant would help the Foundation "build a direct hiring-pipeline from the community-based organizations conducting the training to employers who can hire these young adults as soon as they're ready."

Learn more about the National Restaurant Association Educational Foundation at https://chooserestaurants.org/