Articles
January 20, 2022
De-escalating tough situations in the COVID-19 era
Video course offers tips on how to diffuse negative reactions during difficult dining situations.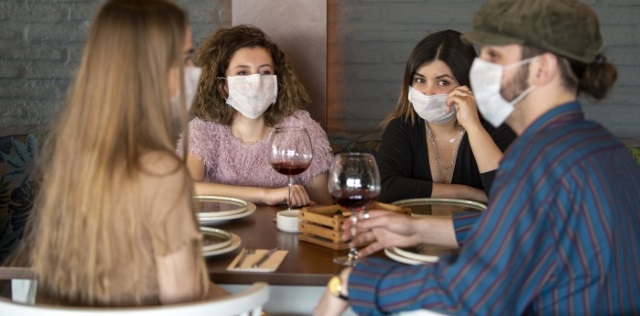 If a guest is upset about wearing a face covering, share what the requirement is and your management's policy.
If you ask customers to describe a great dining experience, 9 times out of 10 they'll probably say it included some combination of good food, hospitable service and ambience. But, as we enter our third year of the COVID-19 pandemic, those basic tenets are sometimes challenged.

Some diners, perhaps a little edgier now than they were before the pandemic, act out frustrations with certain policies they oppose, like wearing face masks indoors or adhering to vaccination-proof requirements.

Even though everyone, from restaurant owners to managers to the front-of-house workers, wants to provide good service, in many jurisdictions today, they're charged with following local mandates that may have them turning customers away. When that happens, customers can react.

To help employees understand how best to deal with those challenging situations, the Association offers a ServSafe Conflict De-escalation: COVID-19 Precautions course that teaches how to restore calm during conflict. The video, which is free, explains what to do and not do during a confrontation.
De-escalating tense situations at your restaurant
• Resolve the confrontation before it starts. Let guests know the management's requirements before their arrival. Post any requirements related to face masks, vaccination or negative test proof, or social distancing on social media, websites, signage, and menus. This will help prepare guests.

Be clear in messaging about what forms of proof and I.D. are and aren't accepted, if you need to see an actual vaccination card or whether a photocopy will do, if they also need to present I.D., and what forms would be acceptable.

• Prepare yourself in advance. You don't want to find yourself in the middle of a situation without having any advance preparation. One critical step is to be aware. Recognizing disruptive behavior will help you solve the problem before it grows, whether it's with another employee, a vendor, or a guest.

• Focus on nonverbal cues. If you see anything like clenched fists or jaws, a puffed out chest, increased physical motion or animation, red face or sweating, give the person space.

• Stay calm. You can't de-escalate a situation if you can't control your own emotions. It's not always easy to do, and takes practice. Restaurant employees deal in hospitality and are held to a higher standard. They need to stay professional. If the employee is calm, others will be, too. The goal is to find a solution, and calm a tense situation. It's important not to engage in any aggressiveness.
What to do when tensions rise
The de-escalation course also shares best practices on how to respond if a difficult situation arises. Here are 4 tips on diffusing anger at your restaurant.

1. Listen to the guest and let him or her explain their position. After he or she has explained their upset, tell them you understand their perspective. Then explain what needs to be done. If the guest is upset about wearing a face covering, share what the requirement is and your management's policy. Let them know it's not personal, and try to offer an alternative that works for everyone. For example, if a guest wishes to dine indoors without a mask, offer takeout, drive-thru or curbside pickup service, or direct them to an outdoor dining area. After you've explained all options, give them space to think.

2. Monitor the situation. Stay neutral and don't make the dispute personal. Maintain contact; don't turn your back as it could be considered disrespectful. At the same time, keep things as private as possible. If the situation becomes public, it could cause belligerence. Avoid embarrassment, and avoid blame and stress.

3. Trust your instincts. If you feel threatened, maintain physical space between you and the guest. If necessary, remove yourself and get help. In some cases, the presence of a manager might be enough to resolve the tensions.

4. Know your company's policies. Trying to explain to guests that you can't accommodate them is never easy, but sometimes, it's necessary. After explaining the rules, most guests will choose to accept them. After all, they go to a restaurant to enjoy a great meal, not get in a fight. But if a guest still won't follow requirements, you must follow your operation's policies.

The bottom line is, do everything possible to de-escalate the situation, stay calm, and find a solution that works for everyone.