Darden leaders Otis and Lee talk state of industry employment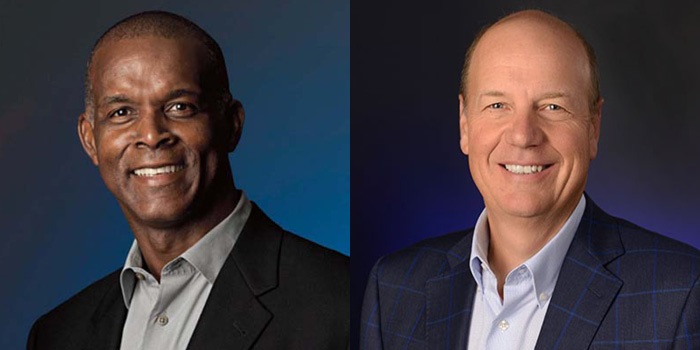 Otis, left, and Lee said operators have to convince employment applicants of the industry's great career opportunities, even for entry-level employees.
In 2019, recruiting employees was the top challenge for 42% of restaurant operators. Today it's the top challenge for 57%, according to Association research.
A shallow labor pool, combined with a swell of returning guests as vaccines and warmer weather prevail, is stress-testing the restaurant industry.
According to our latest research, eating and drinking places added more than 175,000 jobs in March, but the industry is still down about 1.7 million employees.
Operators in all segments of the industry—from quickservice to fast-casual to casual and family dining—are thinking outside the box, trying everything possible to attract talent. Some are offering sign-on bonuses to guest specialists and shift leaders. Others are giving new hires substantial bonuses just for joining their teams. Still others are offering extra compensation if their prospective employees are vaccinated.
One thing they're not doing, said Gene Lee and Clarence Otis Jr., the current and former Chairs & CEOs of Darden Restaurant Group, is telling candidates the restaurant industry's story well enough to convince them the industry offers great career opportunities and upward mobility, even for entry-level employees.
The two industry leaders addressed the issue during the Multicultural Foodservice & Hospitality Alliance's May 3 webinar, "CEO Talk: Inclusion & Diversity as a Leadership Priority".
Explain where opportunities exist
Otis, who stepped down as Darden's CEO in 2014, said the industry has to do a better job of explaining to people where they can go, what opportunities are out there, and what they can achieve, especially in communities of color, where few people understand the opportunities that exist in restaurants, or throughout the restaurant ecosystem.
"I tell people that at company owned organizations, like Darden, they can start as hourly employees and rise up to manage at the store level," he said. They can become the assistant manager or manager at a Red Lobster, or general manager at an Olive Garden, and do that quickly. They can make serious money, and if they choose to, they can go beyond that and be multiunit managers or rise all the way up."
More importantly, he added, that growth doesn't necessarily depend so much on formal education as it does on work ethic, people skills and a willingness to work hard in service of others.
"That's a story we don't really tell, that upward momentum, that at every rung on the ladder it's really a much more exciting job than they'd find in many other industries," he said. "Even on the franchise side, we've got to tell the story of ownership possibility; they really could own their own small businesses if they want, or even become midsize or larger business owners. We need to tell them there are many opportunities for professional growth."
MFHA President Gerry Fernandez, who moderated the discussion, asked Otis what Darden did during his tenure to make itself an attractive company to work at. He said the answer was simple: Company leaders talked constantly about the kind of culture they wanted to create.
"Our tagline used to be 'Nourish and Delight Everyone We Serve', and we talked about what that meant for each of our constituencies," he said. "Obviously for guests, it meant bringing them into an environment where they could connect with friends over a great meal. But, when we talked about what that meant for employees, it meant offering them real professional development and an opportunity to progress if they wanted it. If they didn't want that, we were committed to helping them meet the functional needs to support their families, and the work flexibility they needed."
Get back to basics
Lee said that especially now it's essential for restaurant companies to get back to hiring basics, like providing great training programs to onboard people. He also said offering flexibility—scheduling employees to work when they want to work and not just to suit a company's needs—will go a long way toward attracting workforce.
"We need to understand what their needs are, not just what our needs are," he said. "We're competing in a very different type of labor market today than we have in the past, and so we have to have some sensitivities. We have to have well-run restaurants where people have the tools to do their jobs, and it has to be done in an environment that's very inclusive, where everyone feels like they're part of a team working towards a common goal. If we can do basic things right at the front line, we'll be able to attract the workforce."
Lee also noted that restaurateurs must focus on one important thing: "Even if there aren't enough hospitality workers out there right now, if we train our employees right, and treat them right, take care of them, and offer them the right opportunities, we should be able to staff our restaurants and be successful."