Articles
September 30, 2021
Cuernavaca's Grill owner finds her voice on social media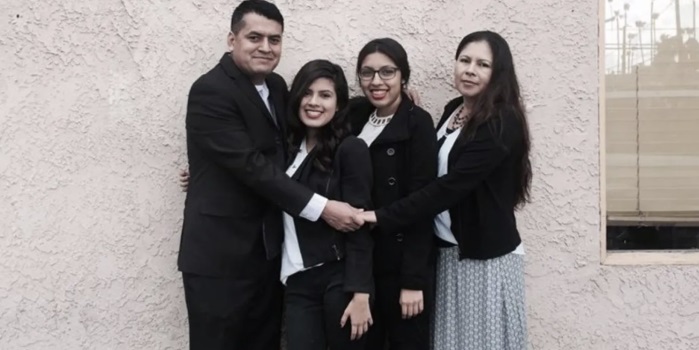 Nayomie Mendoza, second from left, with her father Marcos, left, sister Yanay, second from right, and mother Maria, have worked hard to keep Cuernavaca's Grill running throughout the pandemic.
COVID-19 helped Nayomie Mendoza find her "marketing" voice on social media.
The 24-year-old, who with her family owns and operates Cuernavaca's Grill in Los Angeles, says the pandemic empowered her to reach out to the community regularly, first to let them know the restaurant had temporarily closed, then to tell them it had re-opened to sell takeout and delivery only, and then when the restaurant fully reopened. Using Twitter, Instagram and Tik Tok, she "talked to" and "friended" customers.
Mendoza and her family emigrated from Mexico to the United States more than 15 years ago. Her mother and father worked to save enough money to open the first Cuernavaca's Grill in Long Beach, Calif. It was a success, so they opened a second in downtown L.A. three years ago. Everything was fine—until the pandemic.
---
RELATED: Nothing chicken about opening a restaurant in a pandemic
---
The restaurant shuttered for five months, taking a huge toll on everyone including her family and employees. Everyone was fearful about whether the business could recover after being closed so long, but Mendoza's social media messaging paid off.
As they reopened, the community started to come back. Returning customers, plus a loan in the second draw of the Paycheck Protection Program and a grant from the PepsiCo Foundation's Juntos Crecemos (Together We Grow) initiative, helped the Mendozas get back on their feet.
Innovation and creativity are keys to success
"COVID-19 affected us tremendously, but also forced us to become more innovative," she says. "Before the pandemic, we weren't as active on social media. We resolved to find more opportunities to reach out to the community for the support we needed. Once they showed up, we were so thankful. We knew everyone was fighting tough times and feeling pain. Their support made us grow closer to them, not just as a restaurant in the community, but as a member of the community."
Labor shortage still a pain point
There are still pain points, Mendoza says, particularly where labor is concerned. Like most restaurants, Cuernavaca's Grill is dealing with a reduced workforce, which affects its day-to-day operations. They've had to close an extra day during the week and reduce the number of items on the menu because they don't have enough staff to prepare the food.
"We're short-staffed and overworked doing everything from cooking to dishwashing to serving guests," she says. "We're all wearing different hats and handling multiple tasks, but everyone is being a great sport about it."
To entice employees, Mendoza has, again, turned to social media, creating innovative 15- and 30-second reels for Tik Tok and Instagram videos that focus on the benefits of working at her restaurant. Despite the challenges, she says she's thankful to be a Latina businesswoman living the American Dream.
"Three years ago, I was in college, studying business," she says. "My parents worked hard to get this business up and running. It was very difficult. I wanted to come in and help, try to make things easier for them. It's been difficult, and as a [minority] woman, it's made me work even harder!
Mendoza offers 4 tips to other Latinas looking to succeed in business.
Get out of your comfort zone. "I closed myself off for a really long time, but now I embrace posting on social media and going to networking events."
Market your culture, and business, in positive ways. "Educate and entice people to learn about and experience your culture."
Be innovative and creative. "Don't be afraid to spread your message on social media."
Get involved with your community. "Get to know them, and let them know you. Share your stories. Become 'friends' in person and on social media. If they know you, they'll want to support you."
Visit the Multicultural Foodservice & Hospitality Alliance to learn more about diversity and engagement in the restaurant industry