Conference focuses on HOPES and dreams of the Restaurant Ready
Foundation's inaugural event celebrates workforce programs that make a difference.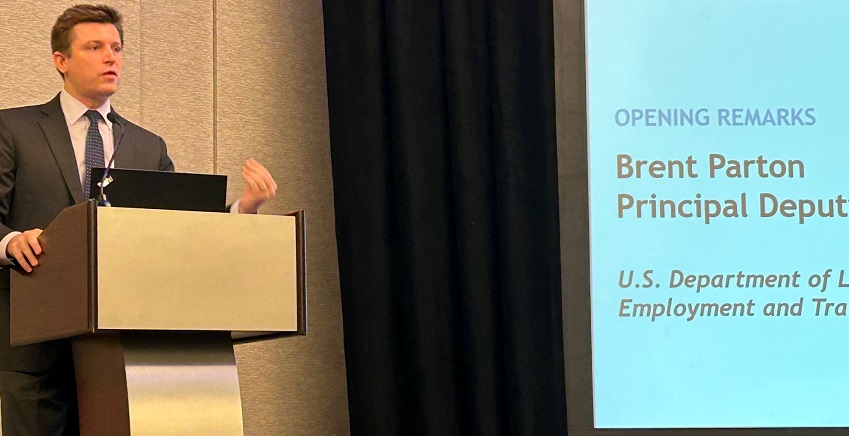 The DOL's Brent Parton told attendees they're integral to growing and strengthening the workforce system on the national, state, and local levels.
The National Restaurant Association's
Educational Foundation
recently hosted its inaugural
Hospitality Pathways Conference
as part of its plan to help alleviate the industry's labor shortage by providing career and job opportunities for employees from all backgrounds.
The event, held in Washington, D.C., brought more than 150 workforce development partners and program participants together to discuss ways to expand those opportunities to marginalized and at-risk populations.
The NRAEF has developed its HOPES, Restaurant Ready, and apprenticeship programs through the
Restaurant & Hospitality Leadership Center (RHLC)
, which focus on providing prospective employees with the training and education they need to ensure a better future.
Providing opportunities for everyone
"This conference brings together many pathways into restaurant, foodservice and hospitality careers, including ones for those just entering the world of work," said Foundation President Rob Gifford. "For those people who are reentering our society, who have disabilities, and are ready to take their next steps in advancing in our industry, each of you is opening doors to incredibly bright futures for them, people from all walks of life. Thanks to you, these programs are changing lives and improving our communities."
The conference brought together officials from the Departments of Labor, Commerce, and Education, and industry employers, state restaurant associations, community-based organizations, and local corrections departments. They participated in workshops and simulations to increase awareness of nontraditional pathways into the industry and highlighted the NRAEF's three workforce programs.
RESTAURANT READY: Launched in 2016, this national program focuses on supporting individuals in diverse communities, who are not in school and or/employed, with their transition into communities and work.
HOPES: The Hospitality Opportunities for People (Re)Entering Society project, was introduced in 2019 as an expansion of Restaurant Ready that supports justice-involved individuals through training, employment, and apprenticeships in the restaurant and hospitality industry.
RHLC: The Restaurant & Hospitality Leadership Center's apprentice program provides accredited training programs for line cook, kitchen manager and restaurant manager positions.
Rebuilding the workforce system, especially during the last three years, has been challenging for small businesses and restaurants, but these youth and re-entry programs could help ease the labor shortage the industry faces while also creating opportunities for job seekers, said Brent Parton, Principal Deputy Assistant Secretary for
Employment and Training at the U.S. Department of Labor
.
Parton, who gave the keynote speech, told attendees they're integral to growing and strengthening the workforce system on the national, state, and local levels.
"We have an opportunity to build the workforce system to where it needs to be," he said. "You are all crucial partners in the plan we call the Workforce 2030 Vision. We want to continue building pathways and high-quality work experiences that stick to employees for life. Technical education programs, where so many young people start pursuing careers in the culinary or restaurant industry, must tap into what's going to motivate them to stay connected and inspired."
HOPES and happiness
Clarissa Haglid, a member of the HOPES program at the Food Bank of Delaware, just transitioned into an industry apprenticeship program at Embassy Suites in Newark, Del. Speaking on a panel at the conference, she told everyone about her experiences and her joy from serving as a HOPES alumna.
"I got my dignity back," she said. "I got to live up to my potential, got to hear my son say he was proud of me. I hadn't heard that in a long time. I owe that to HOPES, and I owe it to me. I've gotten a lot back and plan to give a lot back."