Articles
November 22, 2021
Community cornerstones: Restaurateurs show unlimited capacity to give
Educational Foundation honors three operations as examples of the industry's phenomenal generosity during the pandemic.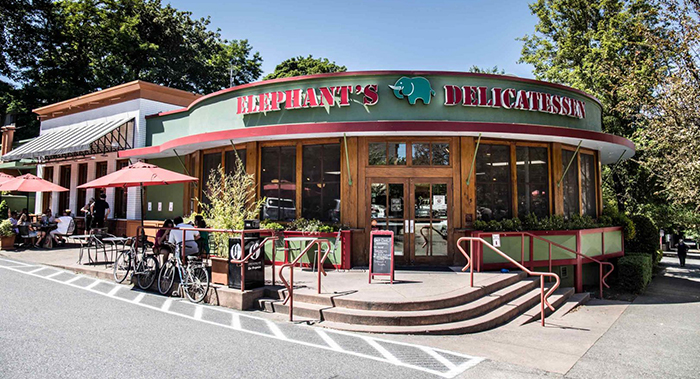 Elephants Delicatessen has won the 2020 Restaurant Community Neighbor award and the 2021 Restaurants Advance Community Neighbor award from the Foundation.
This month, the National Restaurant Association Educational Foundation spotlights excellence in community service in the second part of its "Restaurants Advance: Journeys that Inspire" campaign.

Sponsored by American Express, this series of profiles shows us all how restaurants demonstrated resilience and adaptability during the pandemic and actually shared those strengths to support their local communities.

"These stories remind us that restaurants are the heartbeat of our local communities, creating jobs, stimulating the economy, and serving as a place for people to come together," said Rob Gifford, president of the Foundation. "Even if they had to temporarily close, these businesses found a way to engage with their communities, always putting the well-being of their employees and guests first."

While there are many great examples of restaurants that underwent significant change during the pandemic, yet still managed to contribute to their communities, the Foundation chose three as representative of the spirit of community service.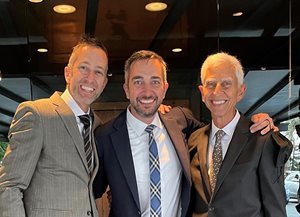 Canlis, Seattle
Famous for Pacific Northwest fine dining, impeccable service and stunning views of Seattle's Lake Union, Canlis has been a landmark destination for 70 years and three generations. But when the pandemic hit, present owners Mark and Brian Canlis quickly pivoted, shedding the white tablecloth image and reinventing the restaurant as a drive-thru burger joint, followed by stints as a drive-in movie theater, roadside barbecue and a crab shack.

Unafraid to try new things (that they knew would keep the staff busy and employed, and the mortgage paid), the restaurant also looked to innovate around its mission to "inspire people to turn toward one another." So Canlis launched Canlis Community College, live streaming classes on food, wine and other life skills. Some 13,000 people signed up, raising $60,000 for local hunger relief and job training.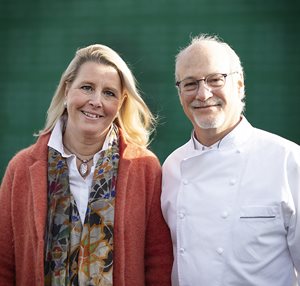 Elephants Delicatessen, Portland, Ore.
Just days after receiving Foundation's Restaurant Neighbor Award in March, 2020, Elephants Delicatessen's business ground to a near halt. Daily transactions at the busiest of its nine locations fell to 50 from 1,000, and the catering business stopped altogether. The business shuttered one of its locations on a college campus and laid off half its employees.

But in the spirit that prompted Foundation's nod, Elephants donated the $10,000 award it had just received to an 80-unit low-income apartment building called LIFT UP in Portland. The deli also helps keep the building's food pantry stocked with non-perishable staples, fresh produce, and sandwiches, soups and salads from its kitchens.

As a certified B Corporation, Elephants Deli voluntarily meets a higher standard of transparency, accountability and performance, using the power of business to solve social and economic problems. The business has supported local growers and purveyors since its founding in 1979, and as the operation has grown, its mission has expanded to include a commitment to sustainability and the alleviation of food insecurity in the Portland area.


Lebanese Taverna Group, Alexandria, Va.
As a family of immigrants, the five siblings who now run the Lebanese Taverna Group (LTG) say it's always been important to give back to the community that helped their parents, Tanios and Marie Abi-Najm, get the business started in 1979. The single restaurant the family was able to purchase three years after immigrating from war-torn Lebanon has grown to to a dozen locations around the Washington, D.C., metro area.

The pandemic, however, forced the family to rethink the business. With its catering operation on hold, LTG used its central commissary kitchen to produce meals for a "Neighborhood Delivery" program for groups of ten or more in one area that could band together and place orders. The family also thought of new ways to give back, coming up with a new type of school fundraiser and providing meals to health care workers through organizations such as Feed the Fight and Food for Others.

The Abi-Najms also recently prepared 5,000 meals for Afghan refugees arriving at Dulles Airport, and helped raise $150,000 for the Lebanese Red Cross and World Central Kitchen after the explosion in Beirut. Dany Abi-Najm, one of the siblings, even flew to Beirut with World Central Kitchen founder José Andrés to deliver food and supplies.

In October, the Foundation's "Restaurants Advance: Journeys that Inspire" campaign showcased restaurants that have championed diversity, equity + inclusion (DEI). Coming up in December: the 2021 Ambassador of Hospitality Award. This year's ambassador is an industry leader who is a "force for good" and uses his influence to drive positive change in the restaurant industry.