Articles
September 14, 2023
Clarissa Haglid: Cooking up hope one day at a time
Justice-involved apprentice's training is creating a path to an industry career.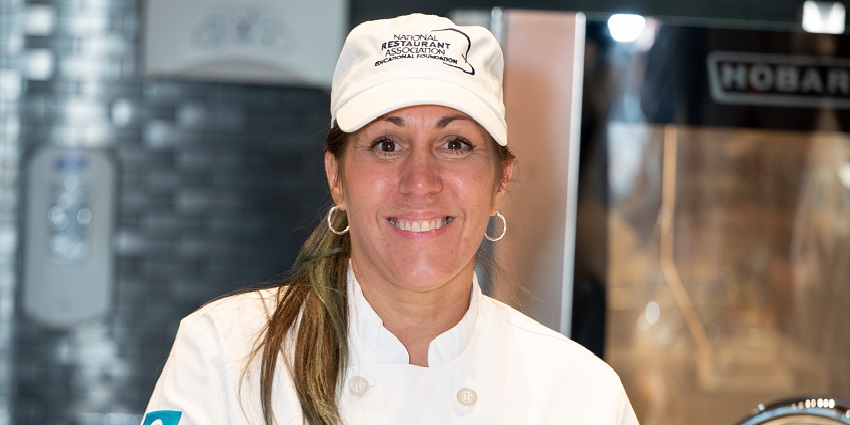 Haglid, who recently graduated from HOPES, is now a line cook at Embassy Suites in Newark, Del., and is learning to increase her culinary skills.
Clarissa Haglid says joining the Educational Foundation's
HOPES program
not only helped turn her life around, it also gave her the opportunity to be proud of herself and find work that would put her on the path to a career in the restaurant and hospitality industry.
Haglid was always passionate about cooking, preparing food from scratch when her son was a toddler. She'd watch chefs like Gordon Ramsey and Rachael Ray on television and try to replicate their recipes at home, and knew she had a knack for it.
She was incarcerated for doing something "really stupid, causing me to walk out of my kids' lives for three and a half years." She adds that when she went away, she was facing a minimum of 18 years behind bars.
HOPES for the future
Then, a corrections official told her about HOPES—the Hospitality Opportunities for People (Re)Entering Society project— a program funded by the U.S. Department of Labor (DOL) which supports justice-involved individuals interested in restaurant and hospitality industry training, employment, and apprenticeships. He thought Haglid would be a good fit and thrive working in the industry. She was interested in pursuing work in the culinary field, so she jumped at the chance, signed onto the program, and started working at the Food Bank of Delaware within four days of her release from jail.
"When the opportunity to work at The Food Bank was presented, I knew it was a chance to rebuild my life and create a pathway to a career," she says. "I needed to grab this lifeline, not just for me, but also for my kids."
Knowing they're proud of her means everything to Haglid. "My son says he's so proud I've got a job and am going to culinary [classes]. It's the best feeling.
"I feel like I've got to demonstrate to everyone, especially others in my situation, the power of the HOPES program and the impact The Food Bank has made on my life," she continues. "It's changed my life."
Challenged, but gratified
Haglid, who recently graduated from HOPES, was hired as a line cook at the Embassy Suites hotel in Newark, Del., where she is learning how to work the back of the house and increase her culinary skills. As part of that professional development, she will participate in NRAEF's
nationally registered apprenticeship program
, which provides accredited training for line cook, kitchen manager, and restaurant manager positions, and culminates with a certificate from NRAEF and U.S. DOL.
"I show up every single day, go to school, and work in the evenings," she says. "It's hard, but the chefs are very knowledgeable and supportive. I know there's a bigger reason I'm in this program. Maybe I'll be the one who's able to go into the prisons and tell others how much of an impact this program has had on me. Maybe I'll be able to help pull more people into the light that is The Food Bank and the HOPES program. I want to give back. I want to tell people they've got to embrace new horizons and stop letting fear guide them. They need to know they're so much bigger than the sum of their past mistakes."