Articles
February 25, 2020
Association interim CEO says everyone can succeed in this industry
In celebration of Black History Month, Marvin Irby, interim president and CEO, discusses diversity and inclusion in the foodservice industry.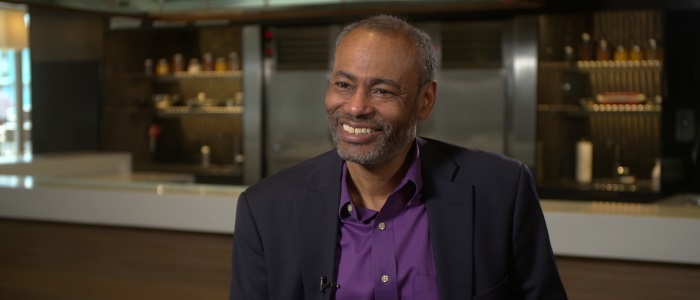 In the restaurant/foodservice industry, 47% of employees are minorities, compared with 36% across the rest of the economy. The restaurant industry hires more minority managers, and has more women managers, than any other industry, making it home to a diverse workforce.

We often say our industry is as diverse as the communities we serve. What does that mean to you?
The restaurant and foodservice industry offers opportunities for everyone to succeed. Restaurants employ more women in management and supervisory positions than any other industry, and 47% of industry employees are minorities, compared with 36% across the rest of the economy.

Diversity in our industry goes beyond race and gender. On the menu at your favorite restaurant might be a Negroni cocktail from Italy, next to naan bread from India. Restaurants have a unique ability to unite a variety of cultures, cuisines, and communities under one roof.

What drew you to the restaurant and foodservice industry?
The hardest working and most fun people I know work in the restaurant and foodservice industry. From my years with Pizza Hut to my role today, I am in awe of the passion, ingenuity, and entrepreneurial spirit of restaurateurs. The leadership skills required to meet the needs of guests — despite what are often unpredictable challenges — are applicable regardless of the career you choose.

Some of the most inspiring leaders I've ever met are restaurateurs, and I've incorporated lessons from them as I've pursued my own career journey.

What's the best advice you could give someone pursuing a restaurant industry career?
Stick to it. Learn everything you can about every facet of the business and then find ways to make it better. The ongoing success of our industry depends on the creativity and ingenuity of our next generation of leaders. Even if you pursue a different career later, the skills and talents you learn in our industry are the foundation for a successful career.

When you think about the future of the industry, what would you most like to see?
Our Restaurants 2030 report indicates that over the next 10 years, the industry is expected to add an additional one million jobs across all industry segments and occupations. I would most like to see the industry fill those jobs with ProStart students, Restaurant Ready participants, veterans, and people who have a desire to make a difference in their own lives and in their communities.