Association CEO Korsmo addresses future of the industry
Says the restaurant industry is resilient, and hugely important to the country.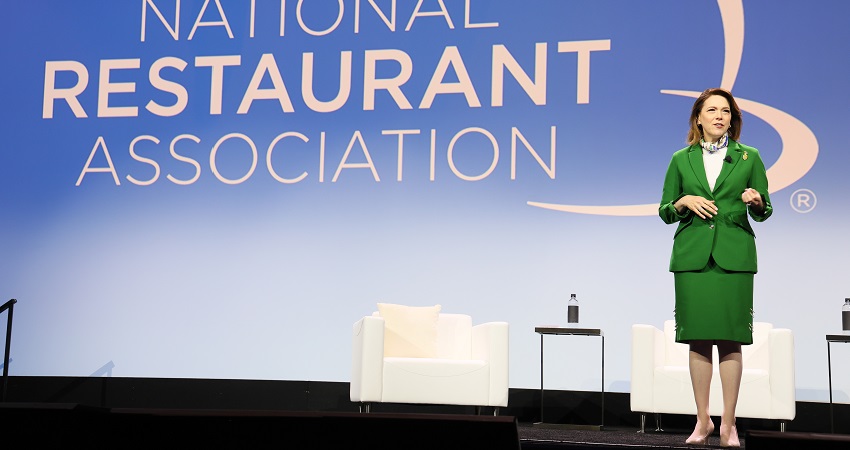 Korsmo told the audience the industry's success depends on creating a great employee culture, focusing on innovation, and prioritizing the customer experience.
The restaurant industry is responsible for 10% of all jobs in the U.S. and is approaching $1 trillion in annual sales this year, said Michelle Korsmo, president and CEO of the National Restaurant Association, in her address to attendees of the
National Restaurant Association Show
in Chicago. Furthermore, two in every three Americans have worked in the industry at some point in their lives, with skills relatable and transferable to every sector of business.
Restaurants, she added, are a growth engine for every community in which they do business, and the industry is a leader in creating pathways for tomorrow's workforce.
Korsmo described the "state of our industry" as thriving again, with significant growth ahead if we stay squarely focused.
"If we want to move from point A to point B or from 2023 to the future, we have to focus on creating a great employee culture, think like innovators and prioritize the customer experience," she said.
Operational objectives
After three years of challenges, including inflation, rising food and labor costs, widespread supply chain shortages, and a changing workforce, Korsmo said 74% of operators indicate sales are higher than last year. Still, workforce engagement remains an issue, with two-thirds of operators reporting they're understaffed—half have been forced to reduce hours of operation.
As the industry turns its attention to the future, she said restaurants must hire about 500,000 more employees by the end of the year to make up the pandemic shortfall, and they're looking to hire older employees as the pool of younger employees shrinks.
According to
Association research
, the number of working teens will decline by 1 million by 2031, and older employees, ages 65 or older, will become the fastest-growing group of workers within the next several years.
Some need the extra income and health benefits, but others are looking for connection, along with scheduling flexibility, a work culture free of ageism, and the chance to learn new skills without judgment.
"They want to be in the company of others, sharing life together, and helping others grow," said Korsmo. "If you think about that, it changes the employee value proposition in our businesses."
At the other end of the age spectrum, she noted, young people, like Gen Z s and millennials, value diversity and inclusion, are interested in maintaining a work-life balance, and look for an increased focus on technology, a clear path for career development, and social and environmental responsibility. These principals also bode well for the industry's future.
"We've got to focus on retaining current employees as much as we do attracting new ones," Korsmo said. "We can do this by stepping up and reimagining mentorship and training opportunities that create a clear path for advancement."
Consumer considerations
Consumers, too, want access to more technology, especially where ordering and payments are concerned, she said.
"They want better accuracy on when they're going to receive their food, the ability to make and change reservations seamlessly on smartphones, pay for their meals at the table, and free WiFi without having to ask for it.
As we stay squarely focused on satisfying our customers and employees, I'd describe the state of our industry as thriving again, positioned for significant growth ahead."
Korsmo addressed what she sees as the future of the foodservice industry—beginning with 2030, including 10 big changes ahead.
More hybrid "on- and off-premises" restaurants will become the norm
An increase in the number of food halls featuring restaurant and retail pairings
Restaurants with smaller footprints, featuring automated kitchens
Tech costs will become a standard line item on the restaurant P&L
The need for tech skills will expand as employees routinely deal with automation, robotics and data analytics
The average number of employees will decline
Customers will expect more transparency, wanting to know where their food comes from
Food safety inspection reports will become increasingly accessible
Supply chain barcoding and block chain will become commonplace, quickly identifying potential sources of foodborne illness and contamination
Sustainability will become mainstream, surpassing food sourcing and recycling to include more facets of the operation such as delivery and packaging
"This is a future that belongs to everyone who prepares for it today," she told the audience. "Growth and comfort don't co-exist. This isn't a future for those who live in the comfort zone. If we want to achieve success on the road ahead, we have to create a great employee culture, think like innovators, and prioritize the customer experience. We must open our minds and realize that disruptions and change are constants in our business. 2030 will be here before we know it, but we'll be prepared," she said. "Let's take that next step into the future together."