Articles
February 23, 2023
A St. Patrick's Day promotion can have you seeing green
Giving customers reasons to celebrate the holiday with you can help you boost sales and achieve marketing goals.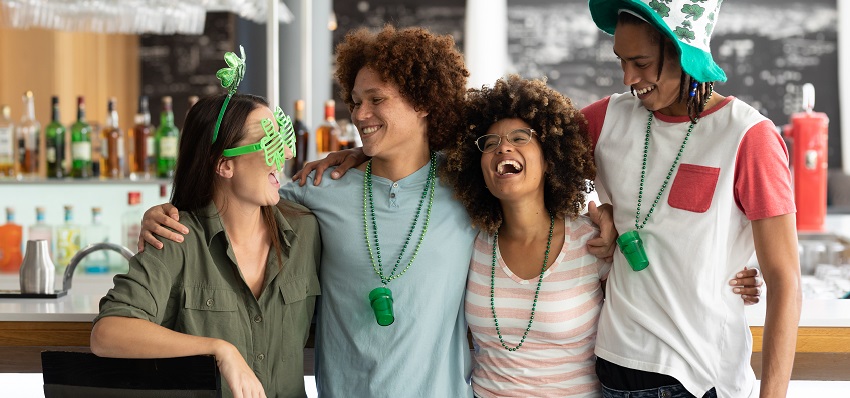 Last year 19% of those surveyed said they planned to attend a party at a bar or restaurant. Anything you do to help customers observe and enjoy the day will set you apart and add to your bottom line.
March 17 commemorates the patron saint of Ireland, and while St. Patrick's Day has its serious side, like many holidays, it also incorporates the fun, gregarious nature of the Irish people it celebrates.
More than half of all consumers mark the day in some way, from wearing green to watching a parade, according to the
National Retail Federation
, and last year 19% of those surveyed said they planned to attend a party at a bar or restaurant. Anything you do to help customers observe and enjoy the day will set you apart and add to your bottom line.
To get the most out of your effort, start early; set clear and measurable objectives, whether increased sales, more loyalty program members, driving traffic, introducing a new menu item, or boosting take-out orders, including alcohol to-go; assign a value to your promotion; develop a theme; and train your staff so everyone is excited about what you plan to offer patrons. Here are a few ideas.
Sam-I-Am.
Green eggs and ham, and a whole lot more green food, and green beer, of course, will be on display for the holiday, but you don't have to dye everything green. A well-known Italian restaurant with locations in West Hollywood and other cities has offered pesto-topped poached eggs with sautéed spinach, avocado, on English muffins as its "Green Eggs." Consider a 17% discount on avocado toast or guacamole, or offer it free with purchase or when customers sign up for your loyalty program. Or highlight Irish ingredients in menu specials.
Going green.
Daylight Saving Time starts March 12, and March 21 is the first day of Spring. With St. Patrick's Day falling right in the middle, think about a longer promotion that focuses on environmental, sustainable or vegetarian promotions. Consider promoting a special salad or vegetarian entrée. Offer a "green" reusable beverage container with purchase and free refills when customers use it on subsequent visits. Organize a "clean-up" day to pick up trash or remove graffiti in the neighborhood.
Luck o' the Irish.
Hold a raffle, with a portion of the money for tickets going to prizes and a portion to a favorite charity. Organize a scavenger hunt in the restaurant for four-leaf clovers or gold foil-covered chocolate coins, with prizes going to customers who find them. Host a trivia contest about all things Irish. Organize games for customers—coin toss, darts, shamrock bingo, etc.—with a pot of gold (chocolate coins, discounts, coupons for free meals, etc.) for winners.
The wearing of the green.
Sponsor a parade and costume contest. Bring in local "dignitaries" as judges. Post photos of the parade/contest on Instagram and encourage customers and Instagram users to "vote" on their favorites. Use Instagram raffle software like
Easypromos
to determine the Instagram winner, and post photos of the judges' pick.
Whiskey business.
Arrange an Irish whiskey tasting or offer Irish whiskey flights—for $17 or 17% off, in honor of the day. If a customer can tell you why whisky is spelled with and without an e, offer a prize. (Hint: it depends on the country of origin; if the country name doesn't have an e in it, like Scotland, Canada and Japan, it's spelled whisky.)
We're all Irish on St. Patrick's Day.
Hire an Irish folk singer to teach your customers Irish songs with karaoke sing-alongs. Hire Irish dancers to teach customers the jig and "Riverdance"-style dancing. Have your chef demonstrate how to make Irish soda bread, brown bread, or classic Shepherd's Pie.
Live on stage.
Host an Irish folk band, or an Irish comedian to give customers an unforgettable experience.
You're so full of blarney.
Ask customers to submit a true tall tale—either written or through an open-mic contest. Judge the entries or storytelling for the best blarney and award a gift certificate to the winner.
It's easy being green.
Offer discounts on all green drinks—appletini, grasshopper, Midori sour, and any other cocktails made with a green liqueur such as Chartreuse, absinthe, or crème de menthe, etc.
Get creative with your menu and your deals. The Emerald Isle is full of magic; borrow a bit and make your St. Patrick's Day even more successful.