86 Food Waste: Engineer your menu to reduce waste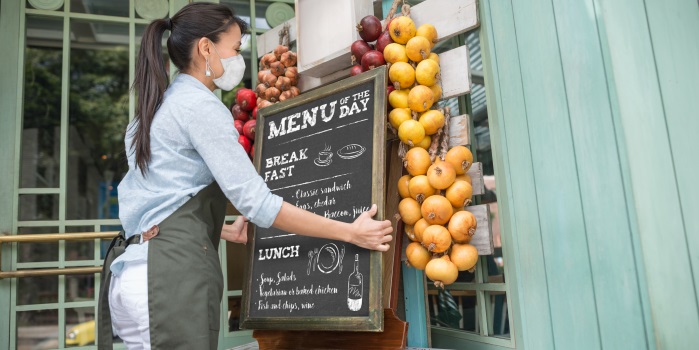 The pandemic pulled most operators' focus off anything that wasn't related to survival. Now that the industry is reopening to full capacity and robust business from pent-up demand, the more holistic approach to successful foodservice is returning. Cutting costs by reducing waste is a key success strategy.
The National Restaurant Association's 86 Food Waste initiative, a set of data-driven resources highlighting actionable steps to help restaurant operators eliminate food waste, debuted in early 2020 in partnership with the World Wildlife Fund and support of Essity/Tork.
This week, we set our sights on one of seven key food waste reduction strategies, menu engineering.
Engineering your menu to accommodate customers' portion needs and preferences helps prevent food from ending up in the garbage.
And risk our reputation for good value? We don't want negative reviews!
Fortunately, there are practical, low-risk methods to engineer menus that benefit a restaurant's bottom line and account for varying appetites. Engineer your menu to:
Adopt full and half portions. Use smaller plates for half portions.
Permit customers to split entrees and/or sides.
Serve smaller portions of side dishes with "bottomless" or "refill" options.
Let customers choose the sides they prefer and train staff to ask for preferences.
Accommodate customers asking you to wrap up half their meal before it's served.
Print storage and re-heat instructions on take-home bags/containers to maintain the quality of leftovers so they're eaten at home.
What do these benefits look like?
A Portland, Ore., tavern made a simple change to eliminate food waste. Watching large quantities of free bread going to waste, they put bread on the menu and priced it at $2.00. The result? The restaurant saved a whopping 65 lbs. and 90 lbs. of butter and bread dough monthly, respectively. As for profits, management projected $5,000 in additional annual revenue.
For some companies, removing freebies may seem risky. Alternatives include instructing servers to ask guests beforehand if they want freebies or adding a line in the menu informing customers that they can request these items. If they ask for it, customers will likely eat it.
Small steps shift the narrative of food waste in the restaurant industry. In 2018, 55% of consumers said they consider an operation's food-waste reduction efforts an important factor when they choose a restaurant.
The icing on the cake: These changes are accessible for restaurants of all sizes and budgets, with involvement from large chains like Subway, as well as smaller local hotspots. Menu engineering is just one technique. For a full breakdown of the strategies to reduce food waste, download the free series of information at 86foodwaste.com.