Articles
December 08, 2021
6 strategies to help prep holiday takeout biz
Selective scheduling and staff incentives, streamlined menus, and shorter hours could help maximize business.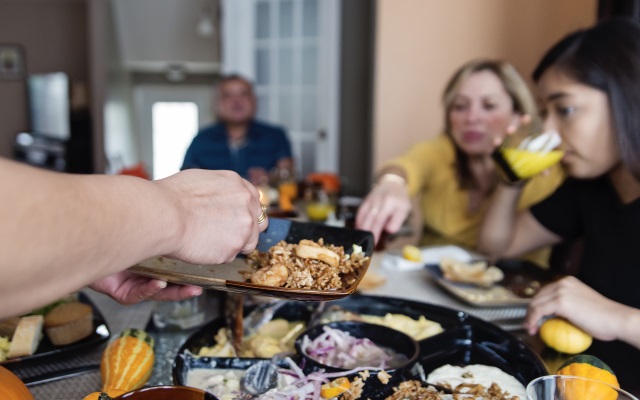 You can limit your takeout menu. Holiday customers typically place larger orders for simpler or signature items.
As we move into peak time for holiday takeout orders, the labor shortage is even more of a concern, and operators struggling to adequately staff shifts fear leaving much needed money on the table.

In an Association survey conducted this fall, four out of five operators said they didn't have enough workers to support customer demand, and five out of six said their labor costs increased, making holiday revenues even more critical.

As you ramp up for holiday business, consider these 6 strategies:

1. Discuss the holiday schedule well in advance. Hourly workers hate last-minute shift shuffles, and that's never truer than at year-end when kids are out of school and many families are traveling. Call a staff meeting to discuss who is really available and willing to work holiday shifts.

2. Consider additional financial incentives. Offer profitable peak shifts or an extra day off later to those who work holiday hours. A time-and-a-half rate could make hard-to-staff shifts far more attractive to workers. If you can't afford to subtract that from the bottom line, you could tack on a holiday surcharge for to-go orders, and make sure customers know it's for the staff. And, if you don't already have countertop tip jars, consider them; customers tend to be more generous when they're in the holiday spirit.

3. Get money into employees' hands faster. Almost every worker could use extra cash at year's end. New apps that allow staff to withdraw money from their paychecks immediately after finishing a shift have boosted retention rates at franchisees of the Arby's, Wendy's, Jimmy John's and Taco Bell chains. If you're not ready for a whole new pay system, consider offering payday advances to trusted staffers, especially those willing to work holiday shifts.

4. Consider shorter hours. Do you really need to stay open late into the afternoon on Christmas Eve or New Year's Eve? If you shorten hours for pickups of holiday orders, post the new schedule prominently on your website and order forms, and make sure workers explain pickup hours when taking phone or in-person orders.

5. Limit the takeout menu. Holiday customers typically place larger orders for simpler or signature items. That can streamline production in your kitchen, especially if most of the menu can be pre-prepped. 1900 Barker, a Lawrence, Kansas-based bakery café that usually fulfills small orders for coffee, sandwiches, soups and a variety of pastries, switches to a Christmas Eve takeout menu featuring pans of lasagna, a charcuterie box, and whole pies.

6. Add upselling opportunities. Availability of retail items can add customer appeal during the holiday takeout rush even if the menu of prepared foods is limited. J. Timothy's Taverne in Plainville, Conn., saw takeout checks tick up after it added craft beers from local breweries that customers could pick up with their to-go orders. At the very least, offer gift cards for your restaurant at the counter; availability of festive envelopes or gift-card boxes will increase their appeal for convenient giving. Portillo's offers a $10 promo card with every $50 worth of cards purchased; Lettuce Entertain You gives an extra $25 for every $100 worth.