Learn More
Learn More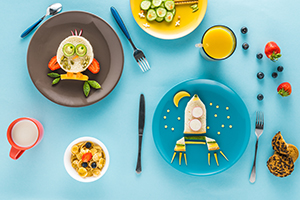 Guides
Kids LiveWell Recipe Booklet
September 12, 2022
Welcome to Kids LiveWell℠
The National Restaurant Association's Kids LiveWell (KLW) program makes it easy for you to offer and promote better-for-you meals to parents and children dining at your restaurants.
By joining, your brand commits to offering meals, sides and beverage options that meet the latest nutrition criteria established by registered dietitians in collaboration with public health and consumer advocates.
The science behind the program, updated to KLW2.0, can be downloaded here, in the KLW white paper.
The Association is ready to help you promote delicious, better-for-you meal options for your youngest guests. KLW menu options meet added sugar, sodium, fat, and calorie thresholds and are prepared to make both parents and children happy
Interested in joining Kids LiveWell?
Follow these simple steps:
1. Send an email to KidsLiveWell@restaurant.org to get started. The Association's professional dietitian consultants, Food Directions, will contact you to go through next steps.
2. Be ready to gather nutrition information on your menu items from your suppliers (you'll need calories, sodium, saturated fat, trans fat, and added sugar information) and submit it to Food Directions via an Excel spreadsheet.
3. Work with Food Directions to:
Tweak menu items as needed to KLW-certify 2 meals and 2 sides options
Adhere to the default beverage policy
4. After certification, you'll need to review and sign a short release form, which grants you access to our KLW social media toolkit! This allows you to post KLW logos on your menus, promote your KLW participation on social media, and lets your customers know about your commitment to kids' nutrition.
You'll need to make sure your KLW nutrition information is available upon request.
Food Directions' certification process can take a few weeks to finalize, depending on your menu items.
The best part: Participation in KLW is FREE!
In addition to committing to offer better-for-you meal options for kids, your brands will …
Benefit from publicity about your brand and KLW by the Association, nutrition organizations, and the media.
Be part of a community of operators making the effort to offer better-for-you menu options to children.
Gain access to the icon that identifies certified KLW choices on menus, on social media and in promotional materials.
Founding Sponsor
Kellogg's

Kellogg's

At Kellogg Company (NYSE: K), our vision is a good and just world where people are not just fed but fulfilled. We are creating better days and a place at the table for everyone through our trusted food brands. Our beloved brands include Pringles®, Cheez-It®, Special K®, Kellogg's Frosted Flakes®, Pop-Tarts®, Kellogg's Corn Flakes®, Rice Krispies®, Eggo®, Mini-Wheats®, Kashi®, RXBAR®, MorningStar Farms® and more. Net sales in 2021 were nearly $14.2 billion, comprised principally of snacks as well as convenience foods like cereal, frozen foods, and noodles. As part of our Kellogg's® Better Days ESG strategy, we're addressing the interconnected issues of wellbeing, climate and food security, creating Better Days for 3 billion people by the end of 2030. Visit www.KelloggCompany.com.

Click here to learn more