Learn More
Learn More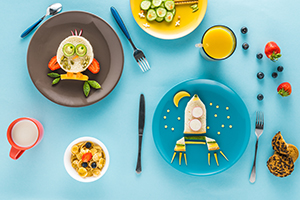 Guides
Kids LiveWell Recipe Booklet
September 12, 2022
Join Kids LiveWell℠
Follow these simple steps:
2. Be ready to gather nutrition information on your menu items from your suppliers (you'll need calories, sodium, saturated fat, trans fat, and added sugar information) and submit it to Food Directions via an Excel spreadsheet.
Tweak menu items as needed to KLW-certify 2 meals and 2 sides

options

Adhere to the default beverage

policy
4. After certification, you'll need to review and sign a short release form, which grants you access to our KLW social media toolkit! This allows you to post KLW logos on your menus, promote your KLW participation on social media, and lets your customers know about your commitment to kids' nutrition. 
You'll need to make sure your KLW nutrition information is available upon request. 
Food Directions' certification process can take a few weeks to finalize, depending on your menu items.
The best part: Participation in KLW is FREE!
In addition to committing to offer better-for-you meal options for kids, your brands will …
Benefit from publicity about your brand and KLW by the Association, nutrition organizations, and the media.

Be part of a community of operators making the effort to offer better-for-you menu options to children.

Gain access to the icon that

identifies

certified KLW choices on menus, on social media and in promotional materials.

By joining, your brand commits to offering meals, sides and beverage options that meet the latest nutrition criteria

established

by registered dietitians in collaboration with public health and consumer advocates.
The science behind the program, updated to KLW2.0, can be downloaded here, in the KLW white paper. 
The Association is ready to help you promote delicious, better-for-you meal options for your youngest guests. KLW menu options meet added sugar, sodium, fat, and calorie thresholds and are prepared to make both parents and children happy.
Email to Get Started Today
Founding Sponsor
Kellanova

Kellanova

Kellanova is a leading company in global snacking, international cereal and noodles, plant-based foods and North American frozen breakfast, with iconic, world-class brands. We are dedicated to helping foodservice operators stay ahead of consumer cravings and meet their demands by inspiring culinary innovations. We win through our customers and partners by sharing insights, flavor and forms trends, menu solutions and activation of our iconic brands in unique ways. Kellanova has long been committed to nurturing our communities and the planet. In doing so, we are also helping protect long-term availability of the ingredients we use in our foods and the livelihoods of the people who grow them.

Learn more