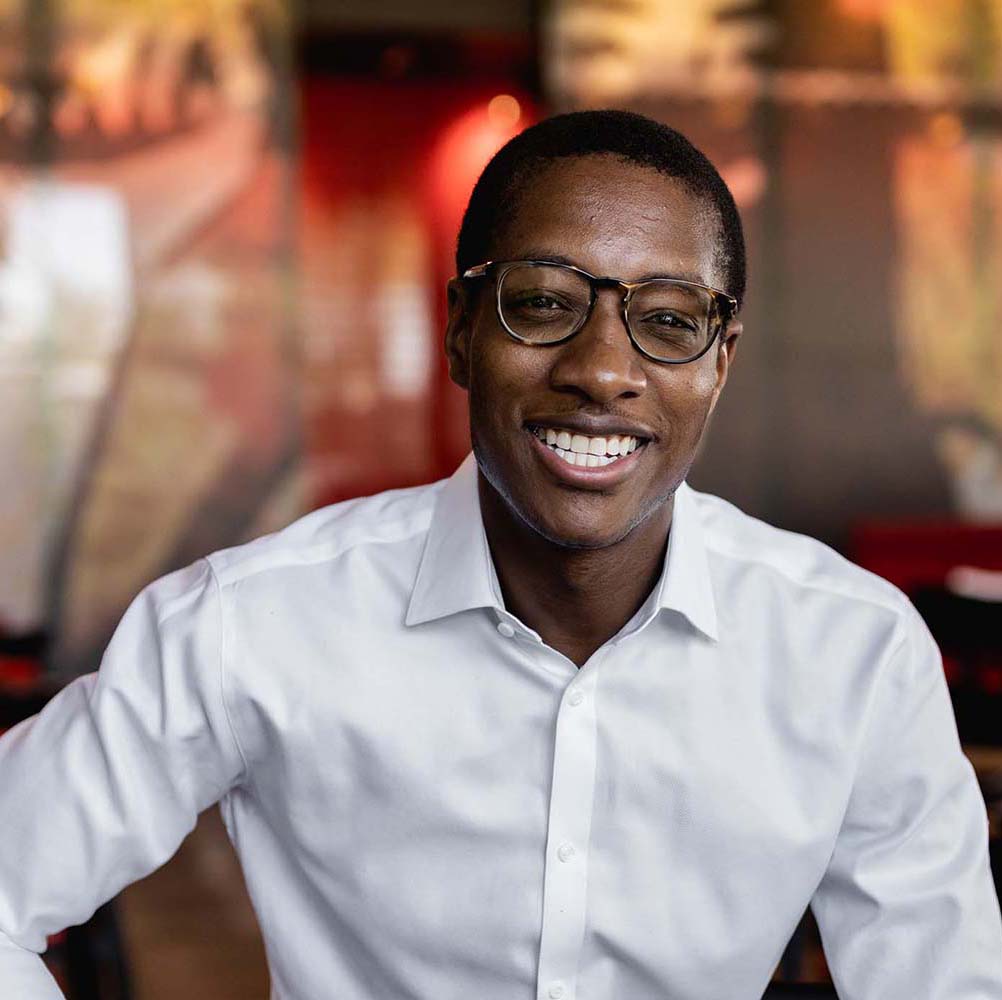 Damola Adamolekun
CEO of P.F. Chang's
Damola Adamolekun is, quite literally, a man of the world.
The P.F. Chang's Chief Executive Officer, son of a neurologist and pharmacist, was born in Nigeria, and raised in Zimbabwe, Amsterdam, Springfield, Ill., and Columbia, Md. Now, at 33, this African "biz whiz kid" who lives in Scottsdale, Ariz., oversees the management of the casual Asian-American fusion brand's more than 200 restaurants.
Along with running his foodservice empire, Adamolekun also serves as a managing partner at Paulson & Co., the hedge fund that purchased the chain for $700 million in 2019.
Under Adamolekun's leadership, P.F. Chang's is generating revenues of approximately $1 billion a year—a crazy feat on its face, given the challenges the restaurant and hospitality industry is recovering from: the worst pandemic in 100 years, supply-chain challenges, a shallow labor pool, and a still-uncertain economy. The former Goldman Sachs investment banker says it's the competitive element of business that appeals to him the most, where you're working to solve problems, figure things out, and grow and build something.
"I always found [business] interesting, even when I was young," he says. "It captivated me intellectually. I started working when I was in high school and invested everything I made. I opened my first stock portfolio when I was 16, and really got into investing. When I went to college [at Brown University] I pursued finance and became president of the Brown Investment Club. After graduation, I went to New York, and started working on Wall Street, pursuing my path toward an investing career, and then turned that into an operating career when Paulson bought P.F. Chang's."
He was always familiar with the brand, since his days living in Columbia, and saw the acquisition as a "tremendous opportunity to buy an exciting business with a lot of potential. My entire focus was and is to make sure P.F. Chang's does well and is successful. There's nothing else I'm thinking about," he says.
At a time when there are few Black CEOs running restaurant businesses, Adamolekun says the most important thing people of color can do to get to the top of the corporate structure is to believe in and set a very high target for themselves and realize they can achieve anything they choose to. Asked for two pieces of advice he'd give to the next generations of diverse industry leaders, he says:
Set high goals for yourself and believe you can get it right. "If you want to be a CEO, the most important thing is to not let anyone make you feel like you don't belong or that you can't do anything."
Focus on your craft and do it well, no matter what you're doing. "My dad, who's a doctor, always told me that whatever I did, make sure I was the best doing it. When we first came to America, I was young, and he took me to a barber shop. It turns out the barber drove a Benz and was the top barber in the city—doing really well. The point, he explained, is in America, it doesn't matter whether you're a barber or a doctor. If you're the best at what you do, you can build a great life for yourself. So that's my advice. Focus on being the best and believe you can ascend the ladder. There's nothing really stopping you."
Adamolekun stresses that half of his executive team is made up of minorities and women. He doesn't care what people look like, what gender or race they are, he just wants the best people in every position.
"The goal is to apply certain standards that ensure we're hiring and promoting the best people we can, irrespective of their backgrounds," he notes. "If we take race and gender out of the equation, we'll naturally get to a state where things are pretty balanced in terms of diversity. It's important to take bias out and
just look at performance.
"