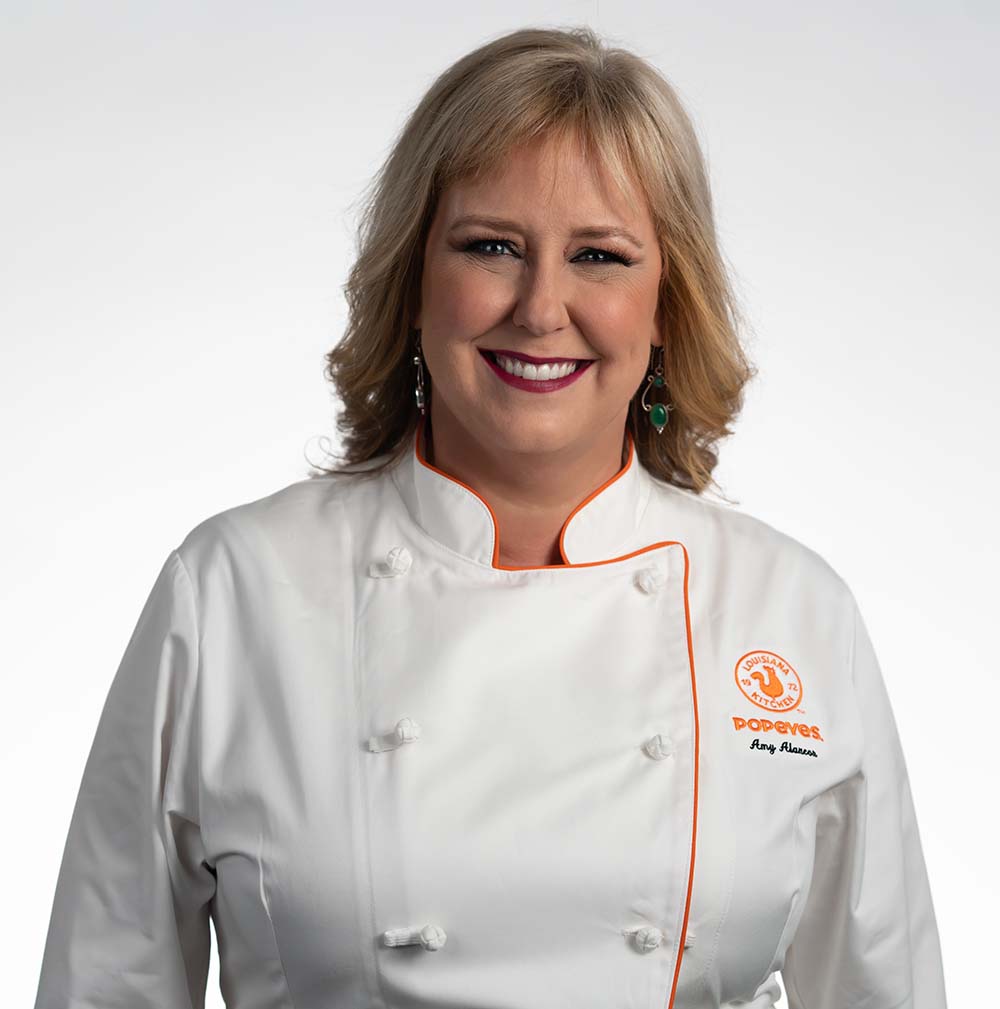 Amy Alarcon
Vice President of Culinary Innovation, Popeyes Louisiana Kitchen
Food has always been an important part of Amy Alarcon's life.
The Vice President of Culinary Innovation at Popeyes Louisiana Kitchen says that since childhood she was taught to believe food should be celebrated, shared, and bring people together. Her parents, the children of grocers and growers, passed their own love of food and travel to her, and it's a mainstay of her life—personally and professionally. Establishing a career in foodservice was a foregone conclusion, though, perhaps, not on the large scale it became.
When she started 30 years ago, the restaurant industry was dominated by men, and things were very different than they are today. With stints at Swisshotel, Church's Chicken, Taco Cabana and Arby's, Alarcon worked her way up the ladder earning her seat—literally and figuratively—at the head of Popeyes' culinary research and development table.
"As a woman working in the kitchen among men, I had to swear like a sailor and have the stamina to put up with a lot from them," she says. "Early on, a male chef told me I'd have to be smarter and faster because that's the only way I'd earn respect from the guys. I learned quickly to become a 'guy's girl' to fit in, but often felt like I had to make myself smaller to fit into their space."
That's not the case anymore. Over time, Alarcon learned how to speak up and stand on her own. Now she works hard to ensure the women on her team, especially the ones beginning their careers, know they don't have to put up with anything that makes them feel uncomfortable.
With mentoring from industry stalwarts such as Tom Turkett, former director of R&D at Church's, and Dick Lynch, former chief brand officer at Popeyes, Alarcon's knowledge and confidence grew.
"Tom took me under his wing and taught me the ins and outs of product development," she says. "On my first day working with Dick, he told me I was a rock star. Those words of encouragement helped me believe in myself. He taught me if you treat your employees like they're rock stars, they'll deliver rock star performances. I've applied that mindset when leading my own team, taking on the role of cheerleader to push each one to be the best they can be."
"I'm fortunate to work for a company that takes diversity and inclusion seriously," she says. "We have a lot of support from the top down."
She notes that Popeyes has a great history of hiring women into senior leadership roles and says her own team is composed of 50% women. Its Popeyes Women's Network also seeks to empower and elevate the potential of women in the brand with educational events, mentorship, and networking.
However, she says more work needs to be done to educate the next generation on the great careers available in R&D.
"Restaurant-brand R&D is not a widely known path," she says. "We need to do a better job of aligning with culinary schools to broadcast the great careers in this area. I didn't know it was an option until after I graduated, and then doubled down on understanding how to produce products for the masses once I started my Church's/AFC role."
Alarcon offers 3 tips for career success:
Do your homework on your guests. Know who they are, what they like and don't like. Each brand you work for has its own personality and the products you develop need to reflect that.
Try to understand what your team members are going through. When you operate many restaurants, you aren't the one directly delivering the product to the guest, so it's important to understand what's feasible within the four walls of the restaurant. Have empathy for the people providing the finishing touches on products you develop and learn the dynamics of what they're dealing with at the local level.
Become skilled in the art of collaboration. It takes a lot of people to launch products, and each one of them contributes to the end game of a successful roll out.
As the industry rebuilds post-pandemic, Alarcon says increasing diversity in the workplace has become a powerful and strong cultural conversation and is opening doors for women to pursue executive team posts. Although women are still dramatically underrepresented in that area, "the gender disparity continues to be brought to light and presents the food industry with an opportunity to change."
Still, she says the restaurant industry is one of the best places to grow far and fast.
"I look at some of the role models out there who started as team members and are now CEOs and have educated themselves along the way," she says. "We have some ground to cover as far as helping women grow into more senior positions, but the runway is clear and long. There are so many amazing women on the cusp of greatness, and that's just inside the company where I work. I think we'll level the playing field more quickly than in many other industries."