Articles
February 24, 2022
High-tech hospitality
Here's 5 tech trends that help restaurants serve customers better—even through a pandemic and an employee shortage.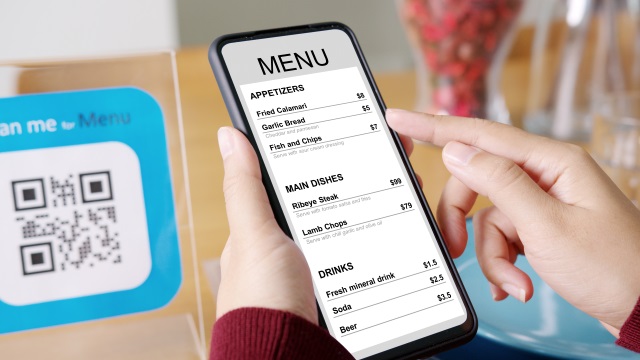 Already on the incline pre-pandemic, online ordering and payment has become an industry mainstay in the last two years.
Two years into the COVID-19 pandemic, it's clear that technology saved the day for many restaurants, allowing them to pivot to increased off-premises dining, contactless payment and new models for engaging with customers.

More than eight in 10 operators say the use of technology in a restaurant provides a competitive advantage, according to the National Restaurant Association's 2022 State of the Restaurant Industry report.

Emerging technologies that were nice to have in 2019 have become essential for many operators. "Five years ago, the industry could not have adapted so quickly to off-premises business because some of this technology didn't even exist," says Hudson Riehle, senior vice president of the National Restaurant Association's Research & Knowledge Group.

Here are five technology trends highlighted in the 2022 State of the Restaurant Industry report:
1. Online ordering and payment: Already on the incline pre-pandemic, online ordering and payment became an industry mainstay over the past two years as consumers turned to delivery and curbside pickup. Seven out of 10 adults report that they're likely to order and pay using a restaurant website or pay using contactless or mobile payment options. A good proportion of operators plan to ramp up technology this year, and they indicate that they're most likely to invest in service-based technologies, including online or app ordering, mobile payment and delivery management.

2. Virtual assistants: Younger consumers are ready to ask Amazon Alexa and iPhone's Siri to place their takeout and delivery orders. Seven out of 10 Gen Z adults and six out of 10 millennials report that they would likely order through voice-enabled platforms if offered by a restaurant that they patronize. Older consumers aren't as willing to adopt this technology, with only 26% of baby boomers saying they're likely to turn to a virtual assistant.

3. Tableside tablets, self-service kiosks and QR codes: Technology-enabled ordering is becoming common even on-premises. Two-thirds of consumers say they're apt to use a tableside tablet for ordering and payment, if available. Gen Z adults and millennials are especially welcoming of this technology, with roughly 80% ready to use tableside tablets. Self-service kiosks are also gaining acceptance, with 61% of consumers reporting that they're likely to use this technology. As for QR menu access, this became popular pre-vaccines to help minimize contact. While paper menus have reappeared in many locations, QR technology still has its uses, and the majority of restaurant operators say QR codes will either become more common in '22 or remain about the same.

4. App-powered rewards: Loyalty programs have come a long way from the days when customers carried paper cards to be punched or stamped. Over the past couple years, operators have invested heavily in integrating loyalty programs into their apps, allowing customers to easily earn and redeem rewards. Some programs even allow consumers to automatically accrue points by paying with a pre-registered credit or debit card. Given the perks and ease of use, it's no wonder that eight in 10 adults (including nearly nine in 10 Gen Z adults and millennials) say they'd probably join a loyalty program if offered at a favorite local restaurant.

For operators, these programs encourage repeat business, while providing consumer data and an avenue for customer engagement. Limited-service operators see the most promise in rewards programs, with 65% of quickservice operators and a majority of coffee & snack and fast-casual operators reporting that they expect loyalty programs to become more common within their segment in '22.

5. Robots to the rescue: While 2020 was all about surviving shutdowns and dining restrictions, 2021 brought a historic labor shortage that threatened operators' ability to resume full operations. Some restaurants are turning to technology to ease staffing challenges. White Castle recently announced it's installing a robotic fry cook in 100 locations, and Buffalo Wild Wings is testing a similar robotic cooking assistant.

Roughly two-thirds of operators expect the use of technology and automation to become more common in their segment in '22, as operators continue to face staffing shortages. The trend appears strongest among quickservice operators, with 78% saying they expect to see more technology and automation use this year to counter the employee shortage.
The National Restaurant Association's 2022 State of the Restaurant Industry report is considered the authoritative source for restaurant industry sales projections and business trends. The report is free to members (a $349 value).

Get the report today!