Download Trends 
Download Trends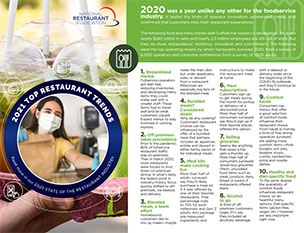 2021 Restaurant Trends
January 26, 2021
Download now
2021 Restaurant Industry Trends
From surveys of 6,000 restaurant operators and 1,000 consumers, we identified how restaurateurs demonstrated resiliency, innovation and commitment and the food and menu trends likely to stick around.
2020 tested the limits of operator innovation, accelerated trends, and confirmed customers miss their favorite restaurant experiences. In this report, we share culinary and restaurant trends through 2021.
Top trends include:
Streamlined menus
Overwhelming shift to off-premises dining
Blended meals, part homemade, part restaurant-supplied
Restaurant-brand meal kits
Alcohol to go
And more
2021 Restaurant Trends is developed with the National Restaurant Association's State of the Restaurant Industry report.