Kitchen Innovations Showroom to feature on-trend equipment
KI Awards judges say the KI Showroom, the largest in National Restaurant Association Show history, has innovations for everyone.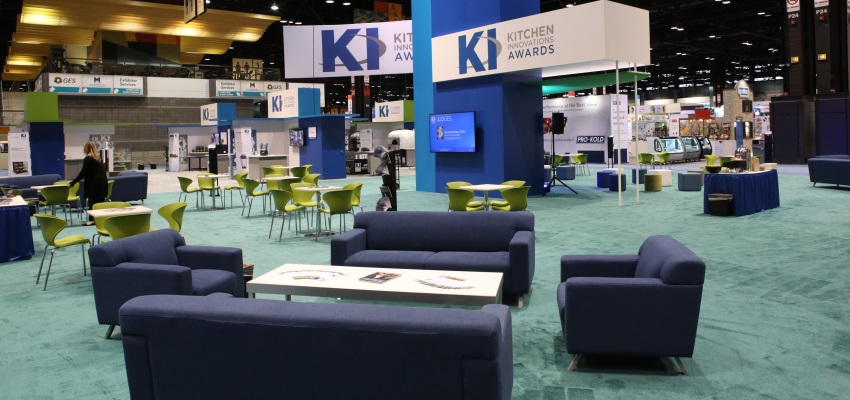 Awards recipients from the past three years will be on hand to showcase their products at this year's National Restaurant Association Show.
Kitchen Innovations Awards recipients from the past three years will be on exhibit at the largest KI Showroom the Association has ever had at its annual show in Chicago. Open during Show hours Saturday, May 21 through Tuesday, May 24, the KI Showroom features some of the most cutting-edge equipment available.

But KI Awards judges say what's important about the featured products is that they address issues operators face head-on. From safety and sanitation to labor and energy savings, the KI Awards recipients tackle industry challenges that were trending even before the pandemic.

"Frankly, I thought when the pandemic first started that there would be a lot of submissions dealing with sanitation and safety," says Richard Eisenbarth, president emeritus, Cini-Little International, Inc., Germantown, Md.

"I don't feel that's been the case at all. I do feel that there were more than the normal number of submissions trying to increase menu flexibility due to food supply chain issues. Also, manufacturers got the message that they needed to build more automation into equipment so operators can do more with less staff."

By far the biggest trend in equipment has been improved control, allowing operators to "set it and forget it," judges say. "Adding more sophisticated microprocessor controls and automation drive many of the innovations," says Foster Frable, founding partner, Clevenger Frable Lavallee Inc., White Plains, N.Y.

For years, operators have been pressed on all sides by the rising costs of labor, real estate, energy and more. The COVID-19 pandemic exacerbated these challenges, and the products in the Kitchen Innovations Showroom have been designed to provide solutions.

"Every product in some way involves labor savings," says Dan Bendall, principal, FoodStrategy, Inc., Rockville, Md. "Labor is even more acutely a challenge and concern since COVID-19, with fewer people to fill positions despite wage increases. Other trends such as the growth in the number and types of ghost kitchens and development of touchless systems, were happening before the pandemic, but now they're in bigger play due to COVID-19."

Ventless and induction cooking will likely be among future winning entries in addition to those already among the KI Award recipients, judges suggest, as the cost and constraints of building out new restaurants and equipping them with an exhaust hood and kitchen ventilation system become prohibitive.

Smaller, faster, easier, more efficient and more sanitary are the characteristics that many of these innovative products share. Here are just a few of the judges' top picks you'll see in the Kitchen Innovations Showroom. And to see all Kitchen Innovations Awards for 2020, 2021, and 2022, click here.
Labor-Saving
Luccy. The first-of-its-kind, fully automated Luccy produces fresh, warm, ready-to-eat, premium hummus in seconds at any point-of-sale or serving point. Luccy produces high volumes with adjustable portions in myriad recipes, without any human intervention. Luccy is sized to fit in any kitchen or display, is easy and inexpensive to maintain. Sunshine Innovations

WMF 5000 S+. The WMF 5000 S+ fully automatic coffee machine represents a feat of modern engineering for the espresso machine category. Its new features include the AutoClean system, capable of eliminating any common hygiene issues related to milk. The WMF 5000 S+ allows operators to execute a top-quality coffee program with minimal staff oversight. WMF Americas
Space-Saving
Botrista DrinkBot. Botrista's new turnkey beverage program offers unique DrinkBot equipment alongside a line of pre-packaged ingredients in proprietary bag-in-box format to deliver infused teas, lattes, flavored lemonades, iced coffees and much more, all within 5 sq. ft. DrinkBot accommodates 14 BiB ingredient packs, each with its own connectors, tubes, nozzles, etc. Software automates portioning, dispensing and mixing; an aerator handles blending. Botrista Technology

Converge Multi-Cook Oven. Building on the invention of the multi-cook oven category, Converge ovens pair vertical, patented Structured Air Technology with steam capability in each chamber. With up to three independent chambers per oven, Converge can cook three different foods simultaneously—all at different temperatures, fan speeds, humidity levels and cook times. All that, and it cleans itself, too. Alto-Shaam
Ventless Technology
IBEX Oven. The IBEX Oven features cutting-edge, solid-state radio frequency (RF) technology combined with convection heating to deliver fast, fresh, full-batch results and premium food quality across the entire menu. IBEX closed-loop, digital cooking intelligence adapts to feedback from food in real time as it changes, always optimizing for both quality and speed during cooking, baking, and reheating. ITW Food Equipment Group

Plexor. Picture three independent ovens—say a convection oven, an impingement oven, a speed oven, or any combination of the three—stacked in a single footprint. Then picture them all ventless, auto-loading and unloading, working off a single control panel and a single shared plug. Plexor's modular design not only offers all that but also enables cooking modules to be field-swapped to accommodate future menu changes. TurboChef Technologies

Other top judges' picks include Hoshizaki America's 2by2 ice cube machine, Ecolab's Cockroach Multi-Station, and Frontline International's Kitchen Controller.

"When operators walk into the KI Showroom," says Bendall, "something is going to wow them."