Kids transitioning from the legal system are ready to work
A Q&A with Chad Houser, founder of Café Momentum, Dallas, at the 2019 Marketing Executives Group conference.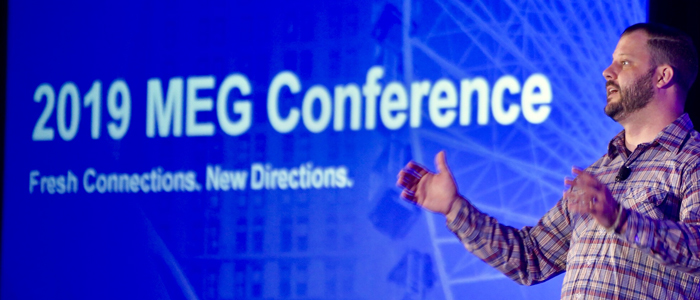 Chef Chad Houser shares the story of Café Momentum in the MEG conference keynote in May.
Chad Houser, founder of Café Momentum, Dallas, has become a champion of hiring and training youth transitioning out of the justice system at his acclaimed dinner-only restaurant, which he created just for this purpose. Working with the Dallas County Juvenile Department, Houser has hired more than 800 newly released teens over the last few years and has watched many of them spread their wings and move on to full-time careers in the foodservice industry. Many are experiencing financial stability for the first time.

He first met a team of transitioning youth when he coached eight teens in an ice-cream-making competition at a local farmers market. Each had to create an ice cream flavor using two fruits and one herb. Facing down teams of college culinary students, one of his teens took home the top prize with a strawberry cantaloupe basil confection. Working with the kids was an eye-opening experience for Houser, shattering his stereotypes and letting him see the level of joy these young men and women experienced as they succeeded in something so outside their norm.

Houser was hooked and determined to find a way to continue to help these youths enter the workforce – and daily life – after serving time in the system. Through Café Momentum, he now offers a 12-month internship program that teaches all the skills needed for working in a restaurant, from dishwashing and waiting tables to food prep and cooking on the line. In addition, they're picking up life skills including time and finance management, personal care and social skills. We asked Houser to talk about what other restaurant owners and operators could do to help kids in their cities.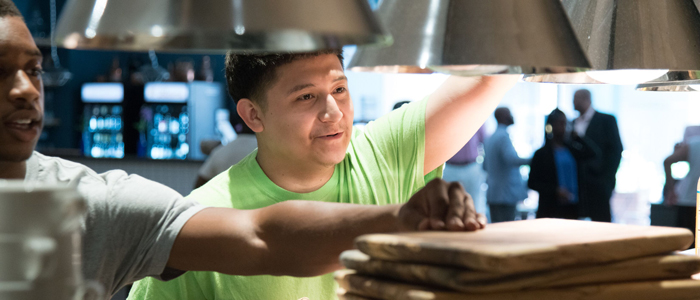 At Café Momentum, young people transitioning out of the justice system learn restaurant and life skills.
You have developed a special relationship with the Dallas County Juvenile Department that helps you identify candidates for your program. What would you recommend to someone looking to create a similar program elsewhere?
If you don't have a similar department where you are, you might look at local schools that deal with students following different tracks, in alternative, private and charter school programs, and build relationships with them.

In addition to providing the kids with life skills training and teaching them kitchen and service skills, do you also need to train your own full-time staff?
Right now, we have 22 full-time staff and we provide monthly training for them, too, in areas of cultural sensitivity, trauma-informed care, de-escalation training and racial equality. We have to be available to work with these kids by first understanding where they come from and where they are. We tend to create atmospheres and set behavior expectations based on our own life experiences and interests. That can lead to problems with transitioning youth if we're not accepting and appreciative of their culture, too. There needs to be a holistic awareness and understanding.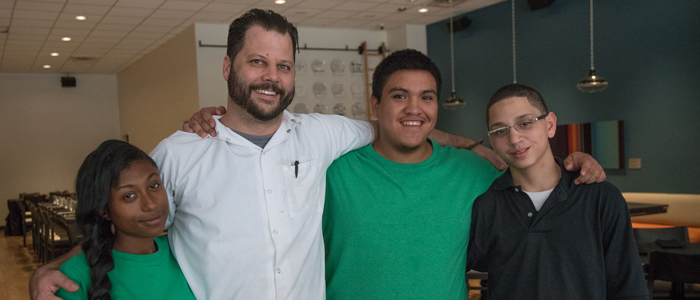 Café Momentum provides a 12-month paid post-release internship program for kids coming out of juvenile detention.
You started your program from the ground up, creating Café Momentum for this purpose. What advice do you have for an existing restaurant that wants to try this?
I'd suggest working with an organization that deals with transitioning kids, then maybe hire one employee to start and use it as an opportunity for you and your staff to learn from them as they learn from you. This population is used to being let down, and in essence being told they're bad. Developing them takes patience; don't become discouraged and don't give up.

What's been the biggest hurdle to making your system work?
Just fighting through the negative stereotypes directed at these kids from all sides. So many people look at them in a very negative light without seeing their potential.

What stories make you smile?
A couple of months ago, we had a menu special one Saturday night. We offered a free entrée to whoever sold the most specials that night. The winner? One of our busboys. He developed a sales pitch that he delivered as he was filling guests' water glasses: "Tell the waiter that Chip recommends the special," he'd say. He sold us out of specials in 45 minutes. We're helping these kids build confidence and teaching them how to interact with people.