Menu prices
Menu prices increased 7.4% during the last 12 months
Menu prices continued to trend sharply higher in May, according to data from the Bureau of Labor Statistics. Average menu prices increased 7.4% between May 2021 and May 2022, which represented the largest 12-month gain since 1981.
Although menu-price growth reached a multi-decade high in recent months, it remained well below the significant increase in grocery store prices. Grocery store prices jumped 11.9% between May 2021 and May 2022 – the strongest 12-month increase since 1979.
Overall inflation also accelerated in May, due in large part to the sharp increase in gas and energy prices. Overall consumer prices were up 8.6% between May 2021 and May 2022 – the largest 12-month gain since 1981.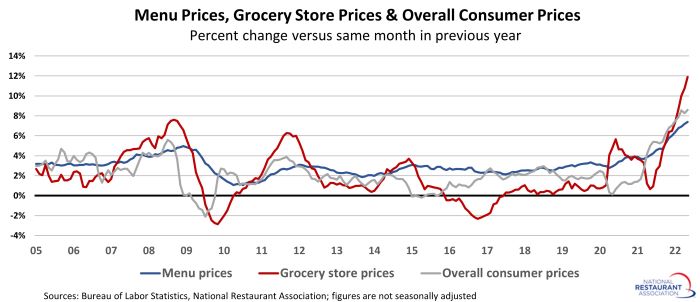 The recent rise in menu prices was due largely to higher input costs – particularly food and labor. The Producer Price Index for All Food jumped 17.8% between April 2021 and April 2022, while the average hourly earnings of eating and drinking place employees were up 10.6% from year-ago levels.
Fullservice restaurant menu prices increased 9.0% between May 2021 and May 2022, while prices for limited-service meals and snacks were up 7.3%*. Growth in fullservice prices continued to accelerate in May, while the 12-month growth in limited-service prices was down from its recent high of 8.0%.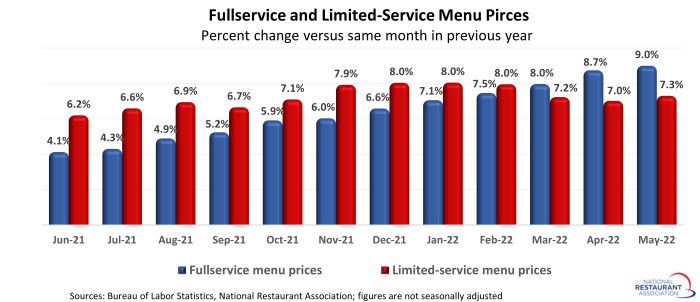 On a regional level, the Midwest (8.8%) and South (7.6%) regions registered the strongest menu-price gains between May 2021 and May 2022. Average menu prices in the West (6.9%) and Northeast (6.3%) regions rose at somewhat lower rates during the last 12 months.
[*Note: The 7.4% increase in the overall food away from home index was lower than the increase in both fullservice and limited-service prices, because of the 30.5% decline in the price index for food at employee sites and schools. The Bureau of Labor Statistics attributes this to widespread free lunch programs.]
Track more economic indicators and read more analysis and commentary from the Association's chief economist Bruce Grindy.