Articles
January 12, 2022
'Pathways' aims to grow Black-owned businesses
MFHA program seeks to break barriers, increase number of minority-owned franchises in the industry.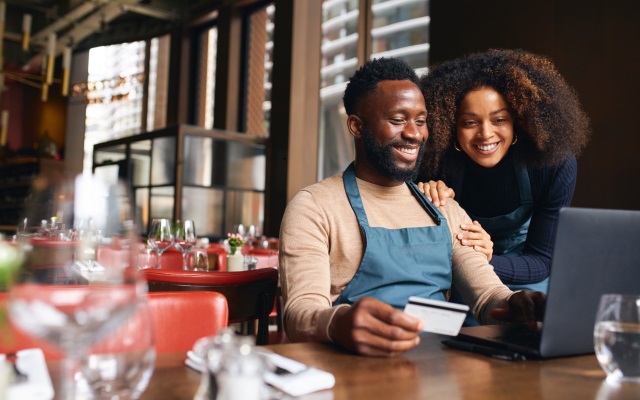 Funded with a $2.5 million grant from PepsiCo, the program plans to assist in the creation of 100 Black-owned franchise restaurants by the end of 2023.
The Multicultural Foodservice & Hospitality Alliance is ramping up its Pathways to Black Franchise Ownership program, which provides potential franchisees with the financial, social, and economic support necessary to succeed as a restaurant business owner.

The program will assist in the creation of 100 Black-owned franchise restaurants by the end of 2023. The project, funded with a $2.5 million grant from PepsiCo, is designed to help aspiring franchisees achieve their goals through training, education, and access to capital.

"This program is about providing the resources—human, financial, and educational—that allow aspiring black entrepreneurs to not only open franchise businesses, but offer them the support necessary for long-term success," Pathways director Marie Davis said. "Even though the restaurant industry is one of the most diverse industries in the country, Black Americans are significantly underrepresented in franchise ownership. Today, only 8% of restaurants are Black-owned. We are committed to changing that statistic."
Franchise partners help identify new opportunities
MFHA recently signed two franchise partners, WOWorks (parent of Saladworks, Frutta Bowls, Garbanzo Mediterranean Fresh, and The Simple Greek) and fast-casual chain Noodles & Company. The Pathways team will work with the two companies to fit the right candidates to franchise opportunities. To ensure success, the program is offering three paths to ownership:

1. Experienced operators: This first is designed for experienced managers and directors of industry brands who want to become owners but lack financial resources to do so or are only partially resourced.

2. Business professionals: The second is designed for established professionals and business owners outside of the restaurant industry who want to pursue restaurant franchise ownership. They may be partially or fully resourced.

3. Franchise owners: The third is designed for current Black restaurant franchisees who are looking to expand their business holdings.

"We know that members of the Black community are underrepresented in the ownership category," said Gerry Fernandez, MFHA's co-founder and president. "Our collaboration with WOWorks and Noodles & Company is going to help make Black restaurant ownership more attainable than ever before. We also hope other franchisors will join us and make business ownership a reality for even more people."
Funding, continued training keys to success
According to Fernandez, access to capital is the No. 1 challenge that Black entrepreneurs face. MFHA is working to identify financing options from banks such as Wells Fargo and JP Morgan Chase, the Small Business Administration, The CEO Connection, and the Black Economic Alliance, which offers low-interest loans. Grants in the form of program-related investments and mission-related investments could also be offered.

Davis added that once the businesses launch, the MFHA and its Pathway partners will offer ongoing support to encourage long-term success. This includes:

• Coaching/advising with franchise industry experts

• One-on-one mentoring with other successful minority franchisees

• Business consulting in the areas of marketing, recruiting, and community engagement

"We've talked to a lot of people who say they're excited to own their own businesses," she said. "Our mission is to provide our program participants with the tools and resources they've been unable to find on their own."

For more information about the program, visit the Pathways landing page on MFHA's website.